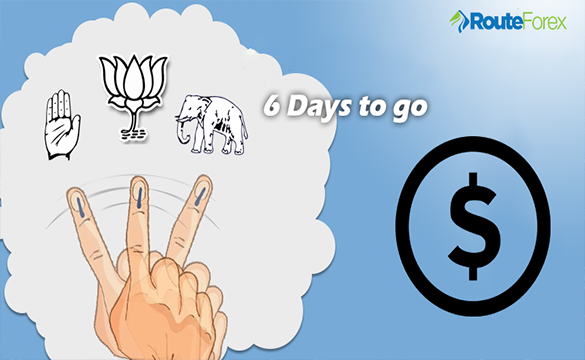 17 May 2018
The most sought event of this year is just 6 days away i.e 23rd May when the whole nation will look forward to the most exciting and grand Indian general election results.This sunday, voting will be held for one last time in the final phase of the 2019 Lok Sabha elections and thereafter from Monday all eyes will be on the Exit Polls.
We have explored the different possibilities of the exit polls impact on the USDINR as follows:
Highest Probability >75% with BJP wining 220-240 seats on is own
Market has already priced in the formation of a stable government with no party crossing the halfway mark on its own.The probability of this event is high.With the help of alliance , BJP to cross 272 half way mark to form the government
Impact on USDINR- Since it has already been priced in, hence some profit taking can be expected in the short term however in the medium term it will be bullish for rupee.Hence in the very near term rupee may test 69.70 first on the higher side and then on profit booking and tracking external cues rupee may slip back to 70.70.Primarily external cues which are already negative for rupees like higher crude and rising dollar will drive it lower after immediate positive news.
Lower Probability < 30%
If NDA were to cross the halfway mark of its own than it would be a significant rally in rupee which should push it lower below 69 again.
Lowest Probability < 10%
If NDA fails to form a government , and if an unstable coalition were to assume power than it will be highly negative for the rupee and it will quickly move towards 72+ levels, may be even 73/74 levels by year end.
All fingers crossed, with all eyes on the exit polls volatility will surely rise..s a strategy corporate should use options to mitigate their currency risk.
regards,
Nitesh
Share this post?