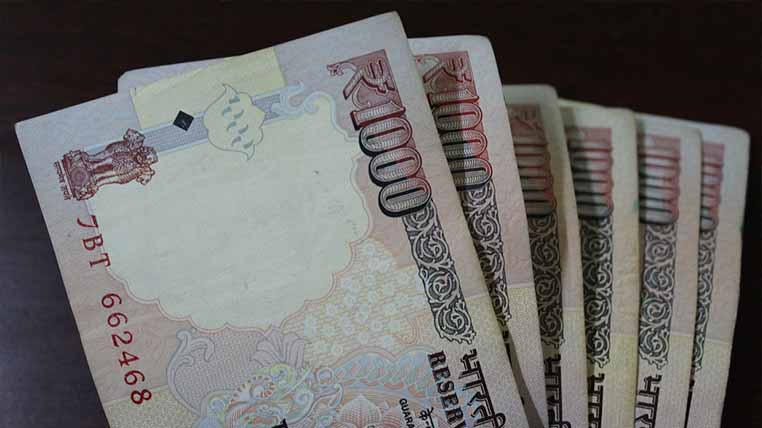 21 July 2018
It's my third mail on the rupee pair , first sent on 15th march where we forecasted for 66.50 when spot was 65, then in May where we forecasted for 68.50 when spot was 67.60 and now in July we raise our forecast to 69.50-69.70 by August-September before a likely reversal( New readers may scroll below to read previous forecast).I had said the reasons for rupee weakness this year in our H1 outlook mail and I am copying the points again from the earlier mail. The concerns remains exactly the same except the equity correction which did not happen and the extent of Trade war which had escalated. Little I knew at the time of writing that the trade war could go that far and impact globally with emerging currencies under severe pressure and commodity correcting by nearly 20% in just 1 month when everything looks to be good.
( Below is the content pasted from my H1 outlook mail which was sent on 15th March to know the reasons for rupee weakness.)
"Going forward lot of factors will drive the currency pair which can be:
1) Global Factors:
Lot of uncertainty still prevails on the Trump policy , earlier it was the tax reforms and now currently the trade war between the US and China may hurt the risk sentiments globally putting pressure on equities and fund flowing into safer heaven assets especially Yen and Gold.
US interest Outlook- It is widely expected that 3 interest rate hike can be seen this year and any deviation from that part may hurt the dollar.
ECB path of QE program. It is expected that ECB may end its bond purchase sooner. Any news regarding this will keep the market volatile.
2) On the Equity we feel the global equity may come under the pressure this year witnessing another 5-10% correction. Technically incase Nifty breaks 10000 levels then 9000 will be the next target where it shall be a very good opportunity to buy for the long term till then with bank Nifty may push the equity lower as fresh fraud and NPA case surfaces keeping sentiment down and out.
3) LOK Sabha Elections 2019- With recent Lok sabha elections where BJP lost all three seats to combined coalition force of SP and BSP.So what was looking smooth in 2017 for the election in 2019 might not be easy for BJP.It will be a big task for BJP from now till 2019 to keep the momentum high and hence this might be a good reason for traders who were betting high on 2019 elections earlier to unwind long term trades and sit light by end of this year driving rupee weakness.
4) On the domestic side macro numbers like CAD and Fiscal number is not expected to improve any time soon which may also drive rupee lower."
What's now?
Last week I had shared message on the whatsapp that 68.30 is crucial support and a trend reversal can be likely for 67.10 only if 68.30 is broken and simultaneously advised our importers to stay hedged for the near term .We were hoping temporary high at 69.10 was formed and fresh resistance of 68.60-68.70 would hold but we were not sure. The support worked well and immediately rupee shot up to 69.1225 to make a life time high but to close lower at 68.84 on RBI intervention. The earlier support of 68.30 has now shifted to 68.55-68.65 levels and we will advice exporters to unwind trades at 68.65 levels those who sold between 68.50-69 levels and importers to hedge for August and September exposure which are open .Till the time now rupee does not breaks 68.30 we will continue to stay bullish on dollar for possible target towards 69.70 by coming month.
My view will go wrong only if 68.30 breaks and a close below that level is seen which looks unlikely. Keep buying USD between 68.50-68.65 for target of 69.50.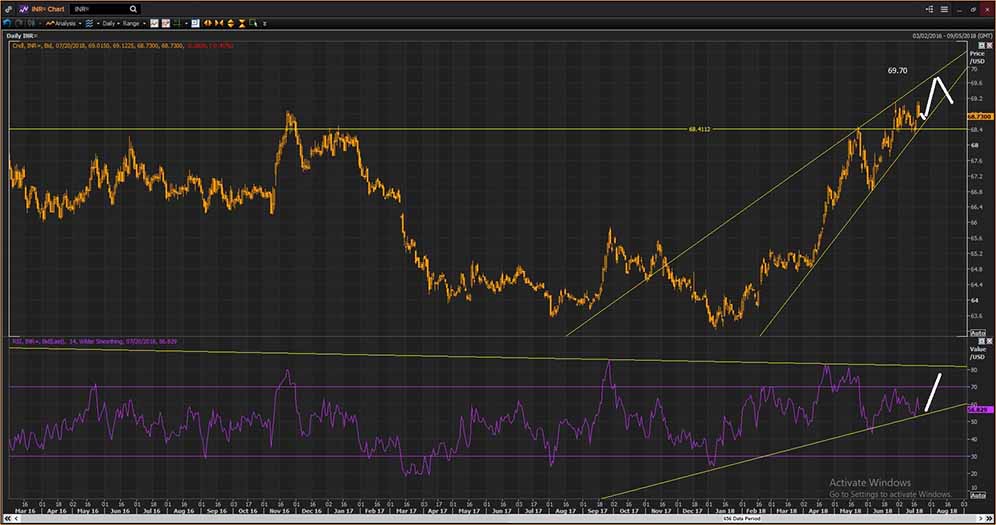 Regards,
Nitesh Sharma
Routeforex Solutions Pvt Ltd.
Disclaimer: This report has been prepared by the research team and information contained therein should not be considered as "research" as that term is defined by applicable regulations from the company and views referred will not be considered as binding on any client or individual. Information has been collected from sources believed to be reliable and in good faith by the research team , but no representation or warranty, expressed or implied, is made as to their accuracy, completeness or correctness. The information may include opinions, estimates, indicative rates, terms, price and projections which reflect existing market conditions and are subject to change, modification or amendment without any prior notice and may vary from views expressed by other members and reports of the company. While care has been taken in compiling this publication, RouteForex, is unable to take any liability for the accuracy of its contents or any consequences of any reliance which might be placed on it. For details, contact us at, dealing desk on +91-011-29870614/13.
Share this post?