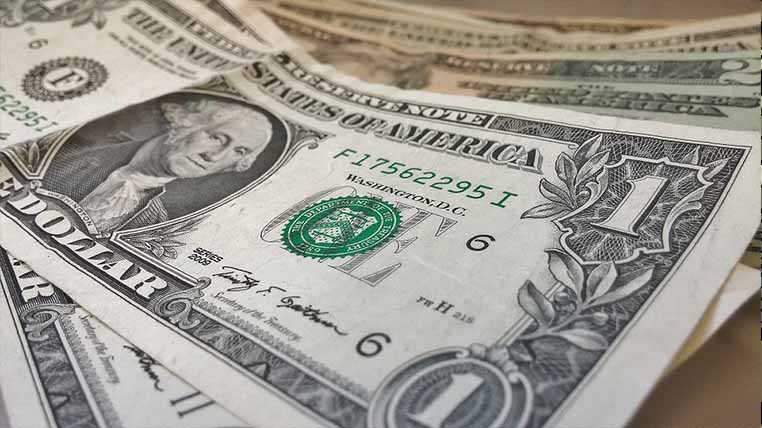 18 September 2018
We met our target of 71.80 by first week of September much ahead of our November Target. So far we have been consistently advising on the rupee weakness from the time rupee has breached 64.50 levels. It's been a one side move for Rupee from 63.60 levels to recent all-time high of 72.91, a staggering 14% depreciation so far. Now we feel the market will take a breather and we expect rupee to correct in the short term towards 70.50 levels by early November though overall in the long term till the time 69.30 levels holds rupee will continue to weaken ( can't rule out 75 also in next year) .
The INR has depreciated the most among Asian currencies year-to-date, and it is also one of the weakest in a broader EM context. The low yield buffer and the external funding gap also expose the INR somewhat to contagion pressures from other more fundamentally vulnerable EM currencies, such as the Turkish Lira and the Argentina Peso, although such spill-over effects should be ultimately limited by the relative low foreign positioning in India's equity and bond markets. The most important determinant for the INR's outlook now is the external environment. Even if there are positive domestic developments - say, growth surprises on the upside and inflation on the downside, and there is optimism about structural reforms - the INR can only fully capitalize on these if the Fed is seen pausing for a pro-longed period, the broad USD is no longer on an uptrend, and sentiment towards EM improves.
The main reason for Rupee correction in coming days can be any of the reasons below:
1.Joint Action from RBI and Government:
India's growing current account deficit and the funding shortfall are one of the key drivers behind rupee weakness. On Saturday government has taken 5 measures to check widening current account deficit and check rupee weakness.
Mandatory hedging conditions for infrastructure loans will be reviewed.
To permit manufacturing sector entities to avail external commercial borrowings up to $50 million with a minimum maturity of one year versus the earlier period of three years.
Removal of exposure limits of 20 percent of foreign portfolio investors' corporate bond portfolio to a single corporate group, company and related entities, and 50 percent of any issue of corporate bonds will be reviewed.
Exemption from withholding tax for issuance of Masala Bond issues done in FY19.
Removal of restrictions on Indian banks' market making in Masala Bonds, including restrictions on underwriting of such bonds.
Frankly the market was a bit disappointed and that reaction was seen in rupee which opened at 72.50 against previous close 71.8450 on Monday. The intent to address the structural CAD problem is the right policy path, in our view but identification of non-essential imports and the barriers to be imposed , will naturally take some time to make an impact on the pair. So far government has refrained from using more radical policy measures such as interest rate hikes or FCNR swap window which market was expecting to check immediate correction in the pair, but they had indicated that letting the INR be on a secular decline is not the preferred policy option either. This would keep the fear of policy intervention alive in every bout of INR weakness.
2.Global Dollar Correction
Most of the US rate hike has been priced in and as the news is flashing on some agreement on the brexit deal , euro and pound can climb higher towards 1.20 and 1.33 respectively which will put a break on the dollar strength in the near term.This should support rupee also.
3.End of trade war
Risk appetite is back with Yen recovering from sub 110 levels to 112 levels with chances of some talk and resolution to ongoing trade war between US and China.Any positive development on this side will support EM currencies.
What's on the chart?
As seen on the chart , the pair is moving within the trend line with higher high and lower lows and after hitting the resistance around 72.91 levels rupee corrected. We see selling pressure to intensify now between 72.55-72.85 levels and on the downside a correction to 70.62( 23.6% Fibonacci retracement of the rally from 63.24-72.91) is possible followed by strong support around 70.00-70.20 mark which should hold as the trend line support in the medium term .This correction can be possible by October end or early November. Momentum indicators are highly overbought and a correction can be on the cards now.Exporters are advised to take hedge while importers may watch out for levels around 71.70 for near term payment and at 70-70.50 levels , to take cover for 2-3 months.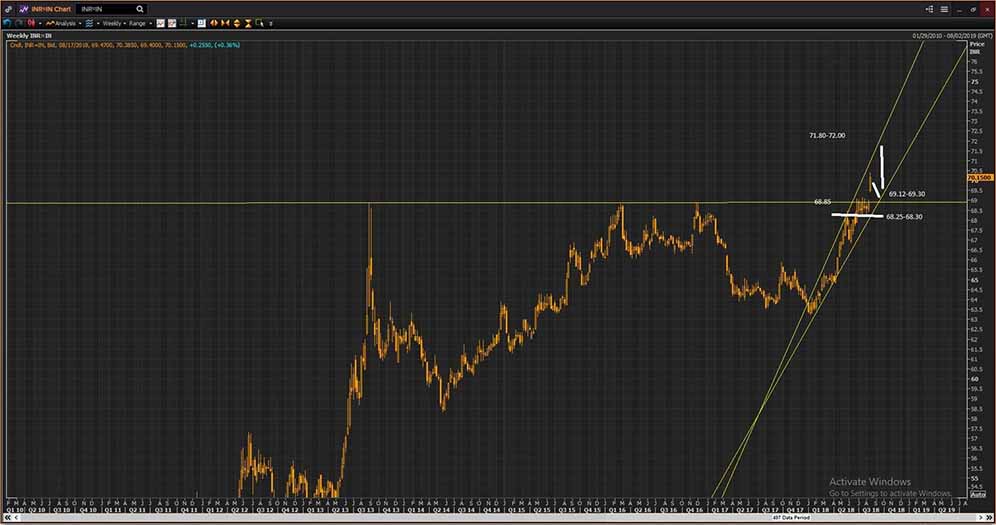 Regards,
Nitesh Sharma
Routeforex Solutions Pvt Ltd.
Disclaimer: This report has been prepared by the research team and information contained therein should not be considered as "research" as that term is defined by applicable regulations from the company and views referred will not be considered as binding on any client or individual. Information has been collected from sources believed to be reliable and in good faith by the research team , but no representation or warranty, expressed or implied, is made as to their accuracy, completeness or correctness. The information may include opinions, estimates, indicative rates, terms, price and projections which reflect existing market conditions and are subject to change, modification or amendment without any prior notice and may vary from views expressed by other members and reports of the company. While care has been taken in compiling this publication, RouteForex, is unable to take any liability for the accuracy of its contents or any consequences of any reliance which might be placed on it. For details, contact us at, dealing desk on +91-011-29870614/13.
Share this post?