18 August 2018
We met our target in Rupee to test 69.70 by August. Transcript of our last mail is pasted below for new readers. Scroll down to read earlier views.
"Last week I had shared message on the whatsapp to our clients that 68.30 is crucial support and a trend reversal can be likely for 67.10 only if 68.30 is broken and simultaneously advised our importers to stay hedged for the near term .We were hoping temporary high at 69.10 was formed and fresh resistance of 68.60-68.70 would hold but we were not sure. The support worked well and immediately rupee shot up to 69.1225 to make a life time high but to close lower at 68.84 on RBI intervention. The earlier support of 68.30 has now shifted to 68.55-68.65 levels and we will advise exporters to unwind trades at 68.65 levels those who sold between 68.50-69 levels and importers to hedge for August and September exposure which are open .Till the time now rupee does not breaks 68.30 we will continue to stay bullish on dollar for possible target towards 69.70 by coming month."
Rupee made a high of 70.3850 on Thursday driven by Turkish lira falling to record low of $7.24 at the beginning of the week as a worsening of relations between Turkey and the U.S added to losses which drove all the emerging currency to new low. While investors have never truly trusted Turkish President Erdogan, he's further lost his credibility in recent months by appointing his son-in-law as the country's finance minister and secondly his belief that lower interest rates were needed to fight inflation, the exact opposite of what economist thinks. While at first glance, Turkey's economy appears to be doing alright which grew by 7% in 2017 and appears on track to match that growth this year. The major issue is that inflation is running out of hand at about 16%. With price pressures running, investor had expected the Central Bank of the Republic of Turkey (CBRT) to hike interest rates from their current 17.75% level in last month's meeting. In contrary of investors and economist's expectations, the CBRT instead held interest rates steady, sparking a selloff in the Turkish lira (TRY).That selloff has turned into a stampede this week after the US threatened punishing sanctions on senior Turkish ministers, as well as imposing double tariff on steel and Aluminum . Turkey's currency has fallen by a amazing 16% last Friday , 25% last week, and 42% year-to-date against the US dollar. While TRY free fall has halted somewhat this week and recovered 6% from its high but we think the depreciation will continue in coming weeks which can further put extra pressure on all the EM currency.
Future Rupee Outlook:
Rupee has broken crucial resistance this week of 69.12 which had held well, courtesy to RBI for regular intervention. Now having broken that level ,rupee immediately tested 70.3850.In between a positive development has happened when Chinese officials briefed that they have been called by US for trade discussion which improved the risk sentiment and revived the hope that Trade war can come to an end. We expect that rupee should cool off next week to test 69.60-69.70 levels on improved sentiments and secondly by some correction in dollar index possibly towards 95.40 from 96.98 high this week .We expect the DXY( Dollar index) to test 98 levels in coming weeks which will translate Euro to 1.11-1.12 levels and GBP to 1.25 levels. In USDINR pair downside will be limited to 69.10-69.30 resistance cum support levels now from where we expect the rupee to bounce back and continue on its medium term bearish outlook to test fresh high towards 71.80-72 levels in coming months probably by November. We advise importers to hedge their exposure between 69.10-69.30 for far year end and 69.50-69.70 for near term and similarly exporters to unwind their export hedging at these levels. On the downside support lies at 68.85 and 68.30 which will act as strong medium term support in rupee. Range for rest of the year will be 68.30-72.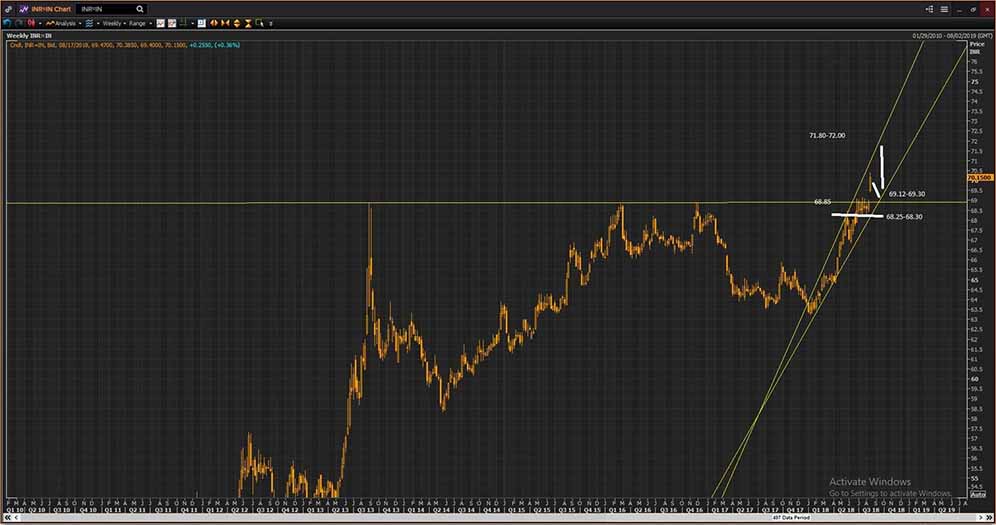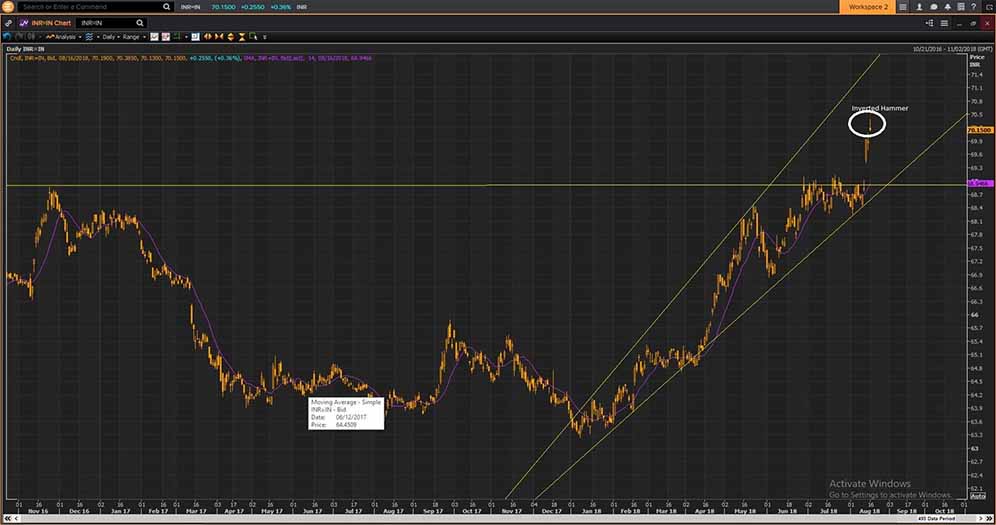 Regards,
Nitesh Sharma
Routeforex Solutions Pvt Ltd.
Share this post?