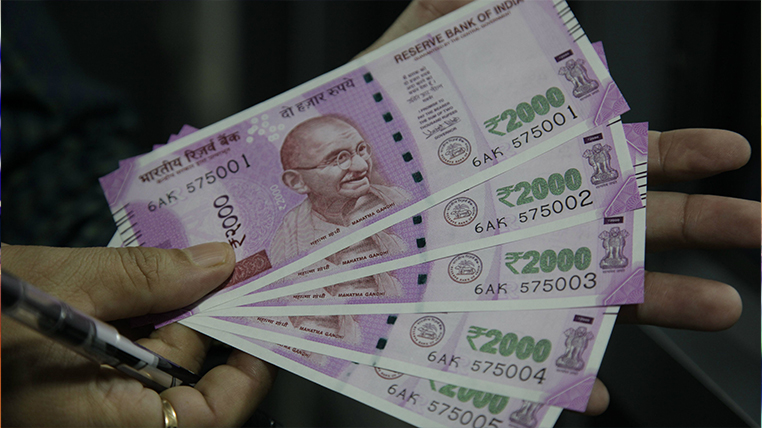 15 March 2018
While Indian rupee ended 2017 on high appreciating from 68.35 to 63.55 which reversed 6 years of consecutive years of fall but so far in 2018 rupee saw a depreciation of closer to 3% in this quarter to trade near 65 now. The main reasons have been the negative sentiment revolving the PNB fraud and Global equity correction of more than 10% from the peak leading to fund outlow. Other domestic cues have been mixed where the trade deficit has widened to $16.30 bn to a 56 month high( Fresh Trade data will be released today which is expected to slightly softer around $14 mio which has already been priced in) and fiscal deficit target has been revised up to 3.3% while on the other hand IIP and GDP growth numbers have been good.
The Reserve Bank of India announced late on Tuesday it was banning banks from issuing letters of undertaking, or LoUs, a form of credit guarantee often used between Indian banks and their offshore branches. The Indian central bank's move to cut off a key form of trade finance in the aftermath of a multi-billion dollar fraud could both dent the rupee and sharply raise costs for many importers. RBI's move will raise the cost of borrowing especially for small importers, slow the pace of imports, and likely weaken the rupee over the next three to four months, and lead to higher loan failures. The RBI allowed banks to continue issuing letters of credit (LCs) - a more stringent, internationally recognized instrument, but one that comes with much higher fees. All these importers used to raise dollar funds against LoUs at 2.5 percent to 3 percent offshore, but this would go up to as much as 8-10 percent or more as companies would be forced to borrow from local banks in India in INR.
The alternative available to importers will be to ask suppliers to accept usance LC which can be discounted at libor rates in overseas market where the suppliers gets instant fund .While "buyer's credit", was straightforward, switching to letters of credit is more complex. The process for an importer has gone up drastically. In a buyer's credit transaction, it would have been completed in 1-2 days, in this case it could take a month. As letters of credit require greater involvement from both the exporter and its banks, this could also result in higher courier charges, document charges, processing and interest costs. The impact will be seen in credit markets, corporate funding cost rising, dollar funding being substituted by rupee loans and imports coming down over the next three-four months as lot of companies might look to shut down who were just a arbitragers and playing on interest rate differential .It is estimated that somewhere $6 bn-$10$ bn monthly issuance of LOU happens .It needs to been seen in days to come how much daily $ demand comes into the spot market and how RBI counterbalances it.
Going forward lot of factors will drive the currency pair which can be:
1) Global Factors:

Lot of uncertainty still prevails on the Trump policy , earlier it was the tax reforms and now currently the trade war between the US and China may hurt the risk sentiments globally putting pressure on equities and fund flowing into safer heaven assets especially Yen and Gold.
US interest Outlook- It is widely expected that 3 interest rate hike can be seen this year and any deviation from that part may hurt the dollar.
ECB path of QE program. It is expected that ECB may end its bond purchase sooner. Any news regarding this will keep the market volatile.
2) LOK Sabha Elections 2019- With recent Lok sabha elections where BJP lost all three seats to combined coalition force of SP and BSP.So what was looking smooth in 2017 for the election in 2019 might now be easy for BJP.It will be a big task for BJP from now till 2019 to keep the momentum high and hence this might be a good reason for traders who were betting high on 2019 elections earlier to unwind long term trades and sit light by end of this year driving rupee weakness.
3) On the domestic side macro numbers like CAD and Fiscal number is not expected to improve any time soon which may also drive rupee lower.
What's on the charts?
As seen on the chart 64.40-64.60 was a strong resistance from the downward sloping trend line falling from 68.80 levels to 64 levels which checked 3-4 times rupee weakness at 68.30,65.90 and 65.50 and 64.50.Now having broken that levels we expect 64.40 region to hold strongly and drive rupee lower towards 66-66.50 levels in coming 3- 4 months and thereafter stabilize between 65.50-66.50. 66.10 region may also face stiff resistance which coincides with 50% Fibonacci retracement of rupee fall from 68.88 to 63.27.Resistance will be seen at 65.20/65.90/66.10 and support at 64.80/64.65/64.40.

Share this post?