Case Study: Outward remittance against the Import of Machinery
27th March 2018, It was a savings day for a Pune based corporate, which is one of the major players in steel industry. They have done a savings of half a million rupees in a single transaction. It was a CAPEX EUR Payment through one of the private sector banks.
The flow of the transaction was as below:
Transaction details were shared with us in the for outward payment of EUR 528,000.00
Bank had offered the EUR rate @ 81.8000, bank was overcharging them by 98 paisa/ EUR. After our intervention our dealer started negotiating with the bank to bridge the gap on appropriate margins. After a tough negotiations the EUR/INR deal was concluded @ 80.8500and done a net savings of Rs. 501600.00
It has been confirmed that the company will be having 4 more transactions in coming FY, considering the cumulative volume of USD 2.12Mn, the possible savings is nothing less than Rs. 20.00 Lakhs, which could be a CTC of a Finance unit of this company.
Details of deal:Date: 27-03-2018
Transaction Type
Value
Currency
Amount
Rate Given By Bank
Amount in INR
Rate covered By RouteForex
Amount in INR
FX Margin Charged
Difference INR
Saving in Transaction (INR)
Import
Cash
EUR
528,000.00
81.8000
43,190,400
80.8500
42,688,800.00
0.03
0.95
501,600.00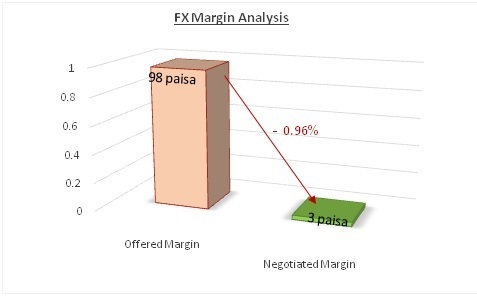 Bank has agreed to fix the FX margin at 3 paisa for all currencies irrespective of the ticket size and currency. Resulted in reduction in the cost of FX transactions reduced by 96%.
Client has got complete transparency on the transaction which was missing earlier.
With our association, client has got an assistance to handle the FX exposure more proficiently.
Client has on boarded us as a FX advisor and signed the annual contract.
Importantly the banking relation has remained intact after this episode of negotiations.

Feedback from Client:
It's been a big savings day for us. Saved of half-a million rupees made our day. Till now we were blindly trusting the other service providers and banking partners as far as the rates offered by them and accepting on a good faith. But after introduction of RouteForex& team, it was an eye-opening experience for us. Great support from dealing desk and effective assistance from the local officials. This is a good value addition for our company and we recommend this activity in our networks. Thank you!
-Finance Controller.