A Metal forging fabrication company saves 80% of FX Cost in just 6 months' time!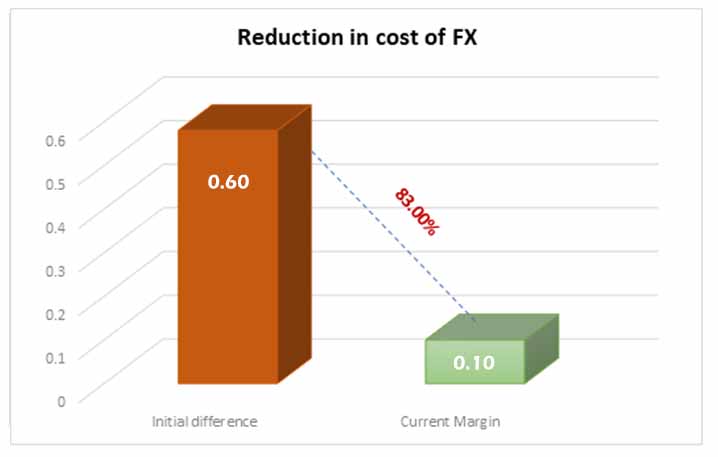 A Pune based recognized export house, into a business of Casting, Hydraulic machine parts manufacturing and Sheet Metal Fabrication and Electro-forged Steel Gratings, with annual forex volume of EUR 20.00 Mn. Exporting to the countries like Belgium, Germany, many others.
Around six months before, we met the CFO and MD and understood their FX handling strategies and processes. On financials, at present, they are availing CC, PCFC limits. Covers some partial portion of exports with Forwards. Associated with a bank for last 8 years.
During the meeting team Routeforex done a quick analysis of historical transactions and observed:
Bank is not charging appropriate margins and found a gap of around 60 paisa that too from day's spot range.
On Forward transactions, gap was up-to 85 paisa – 90 paisa on premiums.
Though they are eligible for interest subventions, were not aware about same. As there was no assistance.
RouteForex's Solution:
Our proficient Forex Transaction Processing could achieve the savings of Rs. 11.00 Lakhs in only 6 months of services, by pulling down margins at 10 paisa over interbank
Risk Management Advisory added additional savings of Rs. 20.00 Lakhs
Bank has agreed to revise the margins by 5 paisa more
Company could get the optimum transparency on rates with access of audio transcript and screen shot of Interbank screen
Company's management can take decision easily with our assistance and prompt inputs